Paver Patio vs. Concrete
September 8, 2015
So you want to install a patio or walkway! Once you have decided to put in a patio or walkway, you must determine the product that you want to use to complete the job. The two most popular choices today are either stamped concrete or pavers. While the price of these two options are similar, the products are not, and as with anything, it is important to know the details before you sign on the dotted line and begin your project.
Stamped Concrete
"There are two types of concrete: concrete that's cracked, and concrete that hasn't cracked yet." -Todd Paparo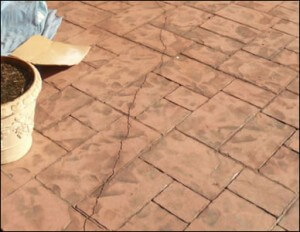 Stamped concrete is, in a word…concrete. While it is colored, textured and imprinted to look like pavers, it is still a slab of concrete and behaves as such. If the ground freezes during a hard winter, the ground freezing and thawing can shift, and without any flexibility, even a little movement can crack stamped concrete. Concrete manufacturers cannot guarantee that their product will not shift and crack, and even the smallest cracks have to be completely re-done, which will almost certainly not match the original coloring. This is certainly a drawback of using this product, and setting aside money for repairs should be taken into consideration when pricing a stamped concrete job.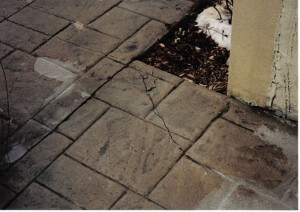 Additionally, stamped concrete is poured in sections to allow for expansion joints and the pattern of the design can be very distracting and not attractive. Stamped concrete can be very slippery when wet, and can be a very dangerous when just installed.
Pavers
Pavers are installed individually, with flexible sand joints between each block to accommodate for shifting and settling. Furthermore, when pavers are installed on a flexible compacted stone base and sand bedding, they are not prone to settling, and the usage of snap edging maintains the shape and structure of the patio and prevents it from expanding into the yard around it.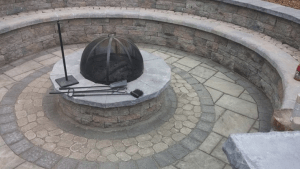 Many manufacturers, including our signature product, Techo Bloc, includes a limited lifetime guarantee on their pavers. Techo Bloc has consistently tested as superior to concrete in a variety of tests, and is not prone to corrosion due to salt or chemicals used in snow and ice. Unlike concrete, customers who choose to install pavers will enjoy their patio for a very long time, with little maintenance required.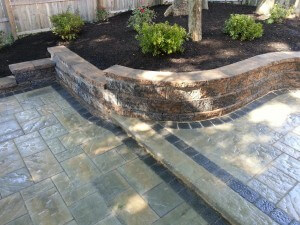 Pavers also help in the drainage or rainwater and snow, and is good for ground water because the base of a paver patio can act as a large filter for the contaminants in rainwater.
The colors and patterns available with pavers vary significantly, giving homeowners complete control over designs and matching to the existing home, unlike a stamp which cannot be nearly as artistic or individualized.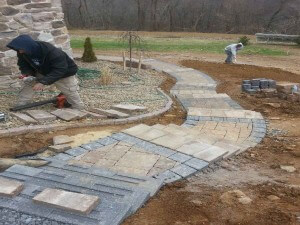 Pavers can also add surface area to your property when you have exhausted your impervious surface footprint as indicated by your township, city, or borough. Using a different variety of sand, and a different installation method, you can still enjoy a patio where other options, like stamped or poured concrete, are not an option. Stay tuned for more details about this option, and as always: contact us for a free estimate and design to suit the needs of your individual property!