Our 3 W's and an H for Tree Fertilizing.
April 5, 2018
Our 3 W's and an H for Tree Fertilizing.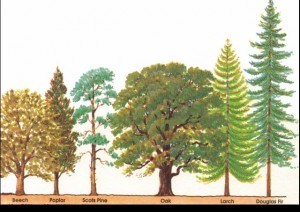 What: Well trees of course! We want our trees to be the best. We want them to grow big, live long and be as healthy as can be. If you see your tree lacking nutrients, it's best to fertilize sooner than later. The longer you wait, the more money you'll have to put into fixing it later and it could be too late!
When: Water when it's dry. Mulch the base in Spring. Fertilize when its lacking nutrients. You have to be careful when to fertilize depending on what fertilizer you use. Find a fertilizer that has a slow, controlled release and a low burn potential.
Why: We fertilize trees to replace the needed nutrients that are missing in the soil.
How: In order to get a good fertilizer, you need one with these 3 nutrients; nitrogen, phosphorus, and potassium in it. When we rake away leaves, twigs, and bark that falls from the trees, we take away most of the nutrients. Try composting the leaves, twigs, and bark by putting them under the tree as mulch so it can recycle the nutrients. Plus, it's free mulch!
Trees make everything look beautiful. They give us oxygen. Take care of them because they take care of you! If you have trees that need attention, call Total Package Landscape at 717-733-8911 for a FREE estimate.  We serve many areas including Ephrata, Lititz, Lancaster, New Holland, Manheim, etc.  All towns from Harrisburg to Philadelphia and everywhere in between!  Total Package Landscape will take care of all your needs.